Gone are the days of pen and paper! Using a soccer coaching software will enable to create and share your own perfect soccer session in minutes.
The sessions can be easily saved and shared between between coaches and devices.
Not only can you use the software for sessions but it can also be used explaining tactics and formations.If you need some ideas about different sessions you can use with your teams these soccer coaching eBooks would be a great start!
The sofware will give a great visual aid that you can use for your players as well, being able to show them what a drill looks like and how it works can add a different dimension to your coaching repertoire as well as saving time.
The software also enables you to display the different soccer coaching equipment that will be required for your sessions.
Below are my 2 favorite soccer coaching softwares that I would recommend for all coaches.
However designing the perfect session does not guarantee you success as a coach, if you are serious about coaching then I would strongly recommend enhancing your knowledge with these soccer coaching books.
My Recommended soccer coaching softwares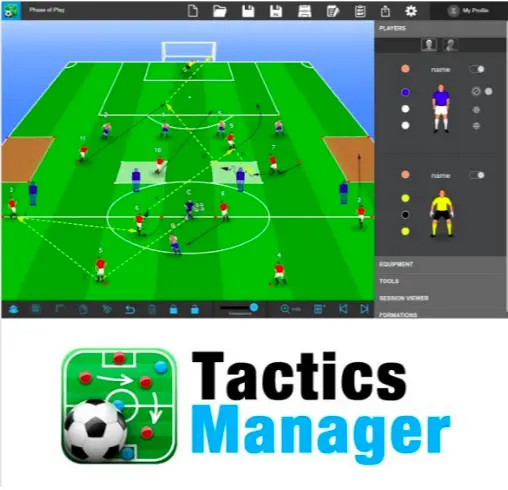 Tactics Manager is a soccer coaching software that allows coaches to plan their session in great detail with visual aids to help players understand what they will be doing in the session.
It is very simple to use and you are able to work offline without any internet connection.
Tactics Manager is a one time cost with free version upgrades so you are constantly up to date with the latest version.
It also includes a free trial
Use code AFL-RMTD for 5% off Tactics Manager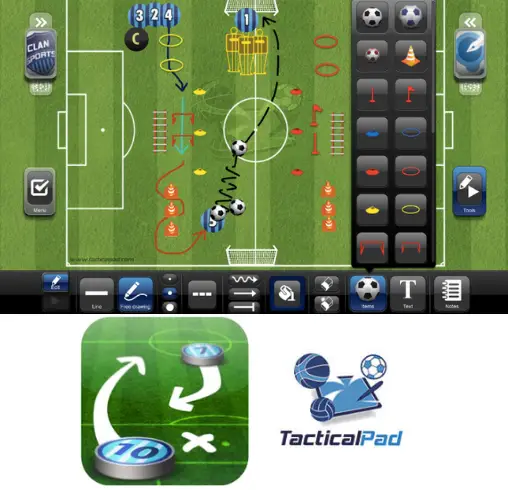 TacticalPad can be used on an iPhone, android, tablet or desktop to create animated sessions, formations and tactics to visually show to players how something should look.
The interface is incredibly easy to use and you can start creating your animations in seconds in either 2-D or 3-D.
Similar to Tactics Manager the software can be used while offline as well.
You are able to download the soccer coaching software for free however to get the best out of the app you will have to subscribe to one of their yearly plans.
The cost may vary depending on which subscription you choose to purchase.