Soccer Coaching,
But Simple.
10 years of soccer coaching knowledge at your finger tips.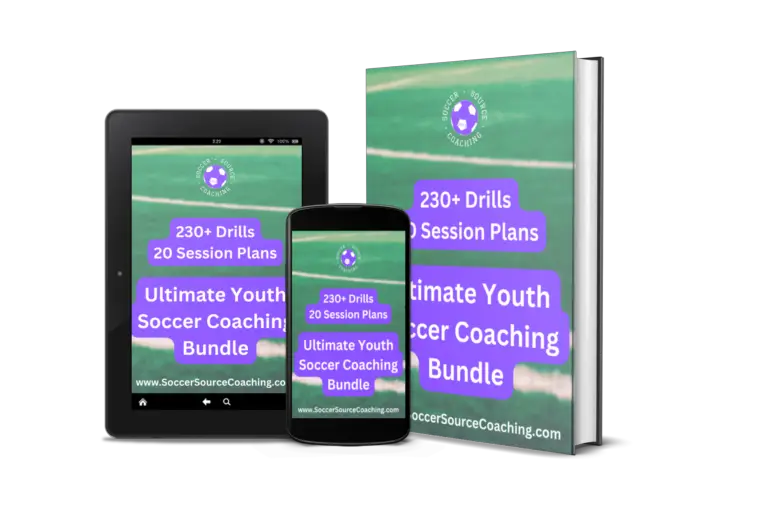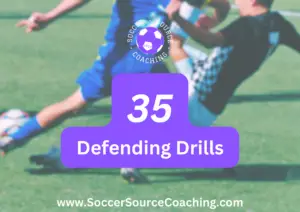 These 35 Defending drills will help your team become impenetrable. The drills in this section focus on defending in 1v1 scenarios, long balls, maintaining a defensive shape, and pressing.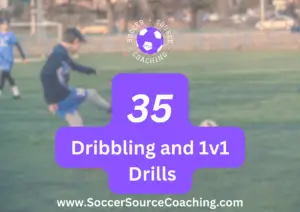 35 Dribbling and 1v1 Drills
These 35 Dribbling and 1v1 drills will create confident, direct players when the ball is at their feet. These drills will focus on close ball control, practical technical skills, and exploiting space in 1v1 scenarios.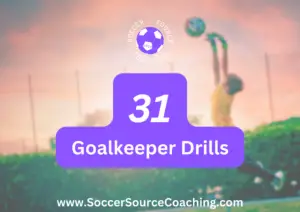 A goalkeeper who commands your backline is essential to any aspiring soccer team. These 31 goalkeeper drills work on coordination, shot-stopping, distribution, 1v1s, and catching.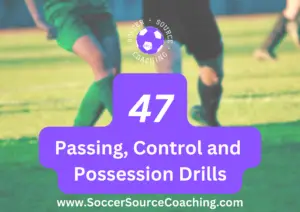 47 Passing, Control and Possession Drills
Keeping possession of the ball is a lot easier than you think, these 47 drills will show you how! They focus on receiving on the half-turn, supporting teammates, movement off the ball, and combination plays.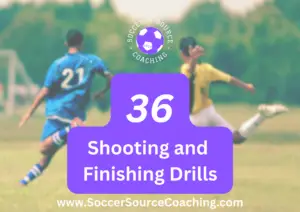 36 Shooting and Finishing Drills
If you don't score goals then you won't win games! These 36 shooting and finishing drills will ensure your players plenty of practice shooting from distance, close and range, and from crosses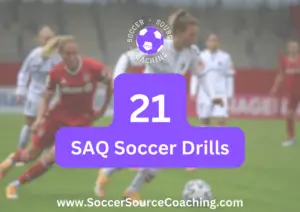 21 Speed, Agility and Quickness Drills
Get your players into peak physical condition ready for the upcoming season with these SAQ drills. These drills will improve agility, speed,  change of direction, and acceleration. They also include ball workouts too!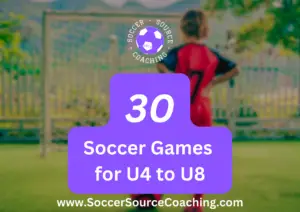 These games are perfect for younger players learning the basics of soccer. The drills are fun and engaging that focus on ball control, changing direction, and spatial awareness. Some of these games are great warm-ups for older players!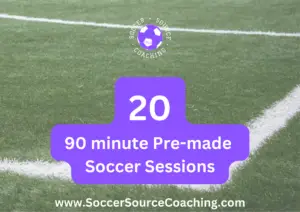 20 Pre-made 90 minute Soccer Sessions
Want a Pre-made season plan for your players? Look no further! These 20 soccer sessions are specifically designed to enhance decision-making as a team and individual. You may have to adjust the numbers depending on the size of your squad.
Frequently Asked Questions
Will the drill be appropriate for my teams?
Yes, there are a wide variety of drills that range from beginner levels all the way to advanced levels for each aspect.
There is something for every team's ability whether your team is fresh to soccer or has a few seasons under their belt.
Will the bundle be updated?
 Yes, like anything soccer is constantly evolving and changing and I will be always looking to improve the Bundle!

If I do, and you have already purchased it, you will be sent the updated version free of charge.
I can't find what I'm looking for, can you add it?
Of course!
 
The priority is to provide as much quality and content for the coaches as possible.
 
Feel free to reach out to me if you cannot find what you are looking for and I'll be more than happy to help.